DIRECT, DATA AND À LA CARTE ACCESS

M32 brings together a large team of industry professionals who work with agencies from around the world. We have so many technologies and experts at our disposal to help support your creativity.
M32 also encourages and facilitates direct relationships with publishers while also providing buyers and agencies with simple and effective access to hundreds of sites and publishers.
Whether in RON, ROC or ROS
RON: M32 Network
ROC: Categories
ROS: Specific sites
Or the use of our different formats, our teams and publishers are ready to support you.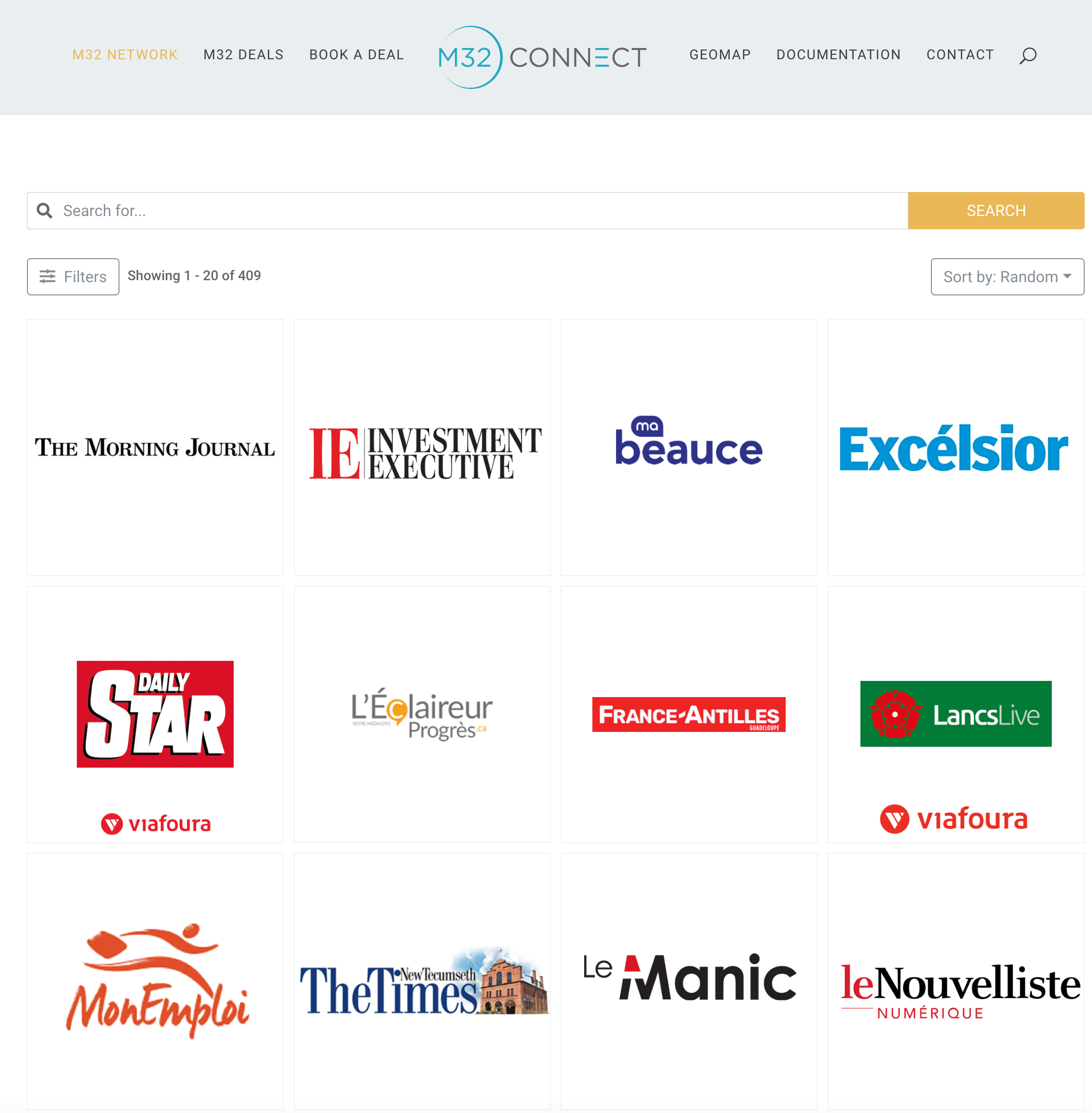 Contact us to get your password
We offer a variety of optimized cross-platform solutions to help you reach your audience on the best premium network.
Display Ad Banners
Our publishers' network offers a wide range of standard IAB formats and integrations. 
Social Display
Powered by Polar, this new ad format helps brands run social posts (Facebook, Instagram, Twitter) as display ads – see a demo here.
Audio
Audio advertising  is more and more used, especially among our radio publishers and podcasters.
In-Stream Video
Any video ads that run on top of a publisher's video content, and which can be displayed as pre-roll, mid-roll or post-roll, are defined as in-stream videos.
Out-Stream Video
An out-stream video ad unit, also commonly referred to as "in-read" or "native" video, is a video advertising unit that loads up whenever a user navigates to it within text content (usually at the second or third paragraph of an article).
Email Banners
This format consists of banner ads that are embedded within our publishers' newsletters.
Native Advertising
These component-based ads are styled by the publisher to help the advertiser's content better integrate within the website or app, in order to be as minimally disruptive to consumers as possible.
Content Marketing
This deep and engaging format consists of running content campaigns through our network by integrating a study or a full article within our publisher's website.
In APP
An in-app ad is an ad that is integrated and displayed within a mobile application.
ASK FOR YOUR ACCESS NOW !