We've created a platform specifically to support media buyers, making it easier to find and buy ad spaces from local media through direct buys or programmatic deals!
Here are the main advantages of the Buyers' Portal: 
Easily browse all M32 sites:

a powerful search engine allows you to sort the list of available websites within our vast network of publishers

in Quebec Canada. Refine your search based on their respective features and strengths (content focus, available formats and advertising options, reach, etc.)




 

Discover M32 Deals:

find all available deals for both local and national publishers and use our search engine to find the best fit for your needs in a flash! Each deal shows all details such as the floor price, languages, available formats, covered sites and potential marketing segments.

 
Get creative with special formats:

our platform includes a range of special formats and unique products to give your media that creative boost! These include HPTO, our M32 Segments DMP, as well as social banners and various video options.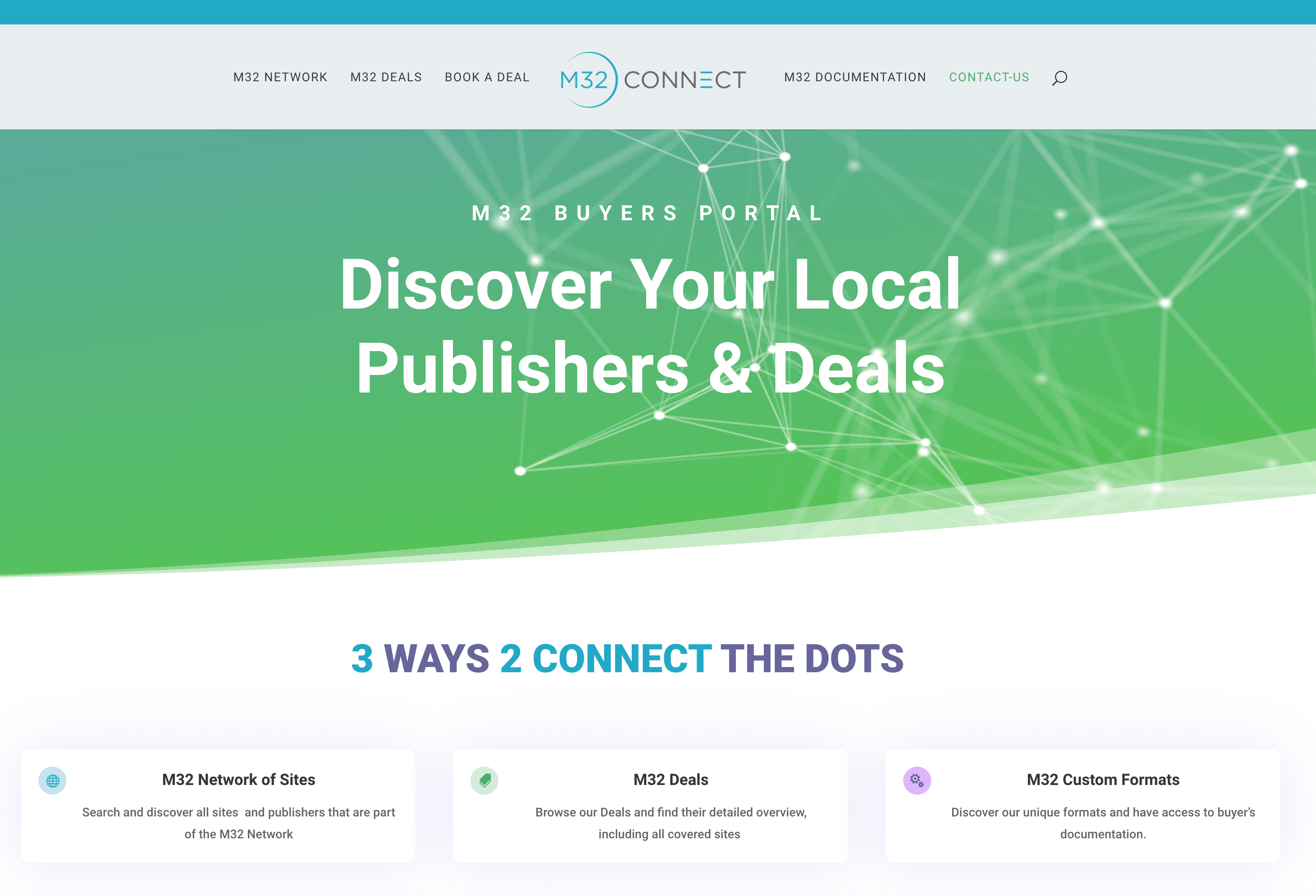 We offer a variety of optimized cross-platform solutions to help you reach your audience on the best premium network.
Display Ad Banners
Our publishers' network offers a wide range of standard IAB formats and integrations. 
Social Display
Powered by Polar, this new ad format helps brands run social posts (Facebook, Instagram, Twitter) as display ads – see a demo here.
Localika - Our Local Buy Solution
Localika is our answer to harness the local market by automatically scaling local online marketing campaigns. This solution is ideal for buyers with an important franchise network or multiple points of sales markets. Learn more here.
In-Stream Video
Any video ads that run on top of a publisher's video content, and which can be displayed as pre-roll, mid-roll or post-roll, are defined as in-stream videos.
Out-Stream Video
An out-stream video ad unit, also commonly referred to as "in-read" or "native" video, is a video advertising unit that loads up whenever a user navigates to it within text content (usually at the second or third paragraph of an article).
Email Banners
This format consists of banner ads that are embedded within our publishers' newsletters.
Native Advertising
These component-based ads are styled by the publisher to help the advertiser's content better integrate within the website or app, in order to be as minimally disruptive to consumers as possible.
Content Marketing
This deep and engaging format consists of running content campaigns through our network by integrating a study or a full article within our publisher's website. 
In APP
An in-app ad is an ad that is integrated and displayed within a mobile application. 
How to buy on our Network
Our network of publishers is accessible through Google Markets, Xandr (AppNexus) and Index. Please let us know if you do not have access to these platforms. We also encourage Media Buyers to connect with us or directly with our publishers for programmatic direct needs or access to our publishers' special formats for your custom integrations.
ASK FOR YOUR ACCESS NOW !
Ask us your questions

Share your feedback

Book a demo to see our platform in action

Join our publishers and embrace the new monetization wave

Explore Life at M32 and join our team

Request your access to our publisher's inventory
Subscribe to our buyers' newsletter