LAUNCH OF THE M32 INTELL MODULE: LEARN FROM YOUR DATA TO MAKE BETTER BUSINESS DECISIONS
Montreal, August 26th, 2020 – Since the creation of M32 Connect, we've shared a very clear vision and objective: helping publishers understand and manage the complexity of digital monetization across various formats, platforms and technologies to maximize their revenues. We've built our services and platform following the DIKW pyramid model, which aims at transforming data into intelligence to make the right business decisions. The M32 Intell module is located at the top of the pyramid and perfectly complements it :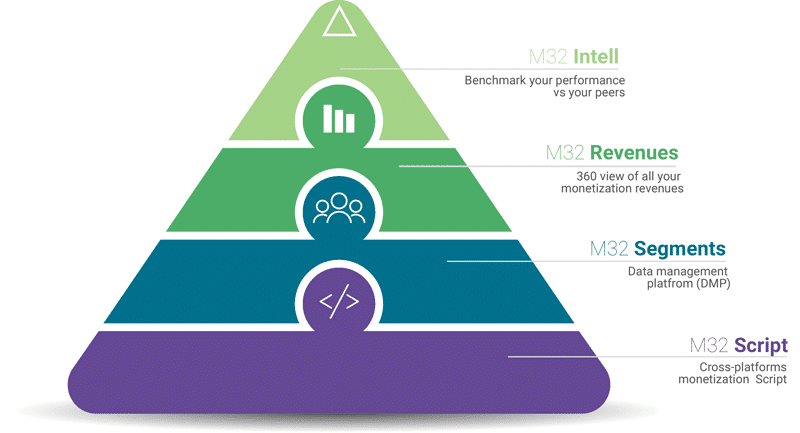 Based on our R&D program, this module regroups the most advanced benchmarks and optimizations in order to analyze your KPIs and put your data in context by comparing it to your network, cohort and market.
Revenues, performance & seasonality : three sections to provide a complete picture
The module is now accessible from the home page as well as the left navigation menu and is split into three sections :
 Revenues: focus on all the revenues KPIs to have a better understanding of the asset's position in comparison with the network, the cohort and finally, when applicable, to the market.
 Performance: addresses three important dimensions that strongly influence revenues, namely to optimize the quality of the asset, the performance and the visibility of advertisements.
Seasonality: brings context for a 12-month observation period to address the fact that benchmarks are great to analyse a particular trend, but they can be different from month to month due to the seasonality effect.
To learn more visit our product page or contact us for a demo
 About M32 Connect
M32 Connect is an Ad Tech & Analytics company helping digital publishers understand, control & optimize their data and the various monetization sources & formats. The company brings the data story together, enabling publishers the ability to make better business decisions for their digital assets. M32 Connect supports publishers by offering them a unique technology platform, flexible and innovative turn-key solutions, as well as by providing consulting and digital adops services.
Moreover, M32 Connect acts as a point of balance between publishers and advertisers. Besides the development of their own tech platform which provides useful insights to publishers, the company partners with premium web content publishers in order to allow advertisers to reach their audience and optimize their results.