A NEW AND USEFUL SUPPORT SECTION COMING TO THE M32 PLATFORM
Montreal, February 20th, 2020 – Montreal-based ad tech and analytics company M32 Connect today announced the launch of a new section  to all users of our m32.report platform: the SUPPORT section. Developed to fulfill our goal of transparency and ease of use for our customers, this new category gathers useful links and resources that will allow users to easily find help and information about the account.
From the SUPPORT menu, the following sections are now available:
TICKETS: Gives an overview of all the tickets (closed or in progress) and indicates their status.
 MY ACCOUNT: Allows to view the detailed status of each user's profile.
PORTFOLIO: Shows a complete list of all the M32 Products & Services, as well as the active marketplaces.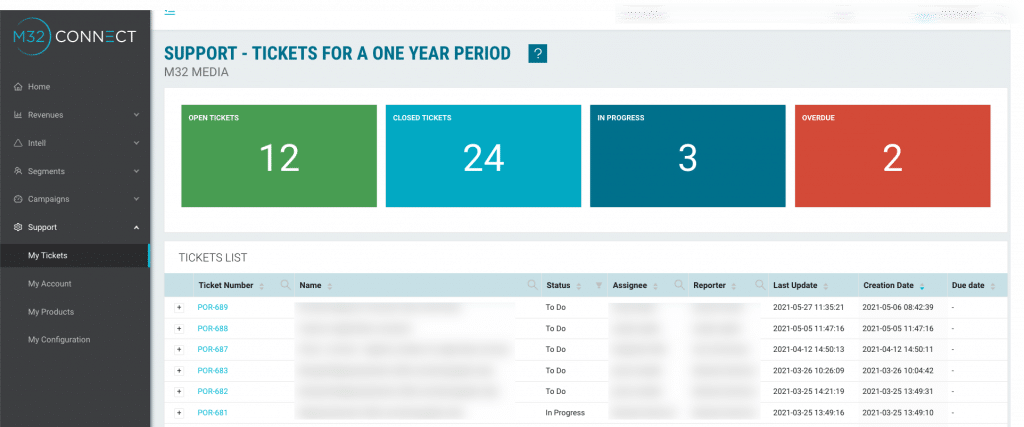 About M32 Connect
M32 Connect is an Ad Tech & Analytics company helping digital publishers understand, control & optimize their data and the various monetization sources & formats. The company brings the data story together, enabling publishers the ability to make better business decisions for their digital assets. M32 Connect supports publishers by offering them a unique technology platform, flexible and innovative turn-key solutions, as well as by providing consulting and digital adops services.
Moreover, M32 Connect acts as a point of balance between publishers and advertisers. Besides the development of their own tech platform which provides useful insights to publishers, the company partners with premium web content publishers in order to allow advertisers to reach their audience and optimize their results.