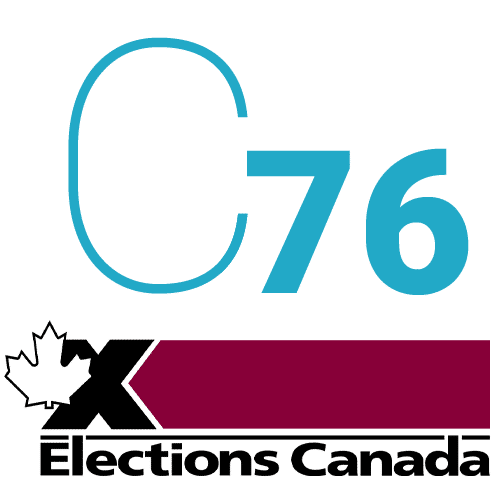 BILL C-76
THE ELECTIONS MODERNIZATION ACT

New Registry Requirements for Political Ads on Online Platforms
New provisions have been added at the end of 2018 to the Canada Elections Act (CEA) and will officially take effect on June 13, 2019, before the next Canadian general election in October 2019. Bill C-76, also known as the Elections Modernization Act, defines online platforms and imposes obligations on them with respect to political ads and digital ad registries.
Latest update: May 2019
This content is not meant to replace official and/or professional legal counsel. Please refer to your lawyer for any legal advice.
According to the Canada Elections Act, an online platform is "an Internet site or Internet application whose owner or operator, in the course of their commercial activities, sells, directly or indirectly, advertising space on the site or application to persons or groups."
If you own or manage an online platform selling advertising space, whether through direct sales or programmatic, and if your website or application reaches specific thresholds in terms of Canadian visitors, you will then need to comply with new requirements by keeping and publishing a registry of all regulated ads, including the name of the person who authorized it.
PUBLISHERS' RESPONSIBILITY
The publisher is responsible for seeking legal advice on this topic and putting a process in place for any direct sales they managed and that are targeted by this law.
M32 CONNECT'S ACTION PLAN ON PROGRAMMATIC
Any programmatic network that is able to confirm they implemented a process to manage these ads will remain active during the election period. Note however that most of them will decide not to run ads, in their best effort:
Google, Index, Xandr (Appnexus), OpenX and Verizon (AOL) will make their best effort not to accept any regulated ads.

Slimcut implemented a process by which they will only accept direct buy ads.
For any other programmatic network that is not listed above and that isn't able to confirm a transparent process, M32 will disconnect the sites and applications that reach the specified thresholds during the election period, as we don't have any guarantee that they will be compliant with the law.
M32 Connect will not run directly any regulated ads for websites and applications above the visitors' thresholds but will support publishers with platforms below the thresholds to run political ads. However, no process will be put in place to blacklist or whitelist the buy as Bill C-76 does not target these sites. We will follow best practices and do due diligence when the sale is done directly by the publisher.
TO WHOM DO THE REGISTRY PROVISIONS APPLY? WHAT PLATFORMS ARE COVERED?
The definition of the online platform includes any website or application where partisan advertising or election advertising is displayed. However, the registry provisions only apply to platforms that meet statutory thresholds for visitors or users in Canada.
WHAT VISIT THRESHOLDS MUST BE REACHED FOR A DIGITAL AD REGISTRY TO BE REQUIRED?
The Canada Elections Act requires an ad registry when the following monthly visit thresholds are reached:
For platforms mainly in English: (3) three million unique visitors in Canada a month
For platforms mainly in French: (1) one million unique visitors in Canada a month
For platforms mainly in a language other than English or French: 100,000 unique visitors in Canada a month
For partisan ads, monthly figures should be based on the average number of monthly visits to a platform in the one-year period prior to the beginning of the pre-election period; for election advertising, the one-year period prior to the beginning of the election campaign.
IAB Canada clarifications :
A media company can manage multiple platforms each under the million UVs limit individually, while its entire network represents more than a million users. In this case, these platforms are not subject to Bill C-76 as it is specific to each site and not the network.
WHAT IS ISSUE ADVERTISING?
Issue advertising is the transmission of a message to the public during an election period that takes a position on an issue with which a candidate or registered party is associated without identifying the candidate or party in any way. Like other election advertising, issue ads must include a tagline.
There are three essential elements in issue advertising:
Timing: The ad transmission must be during the election period. Any issue ads transmitted outside that period are not regulated.

Content: The content of the ad must be for or against an issue with which at least one candidate or registered party is associated. Such issues could be social, domestic or foreign policy, economics, or national security issues. Individuals or groups can learn more about issues associated with registered parties and candidates based on the registered party or candidate's political platform, debates they participate in, social media campaigns, etc.

Context: Determining whether a particular message promotes or opposes an issue with which a candidate or registered party is associated is largely done based on the facts. An issue ad transmitted during the election could at some point become associated with a candidate or registered party. It is, therefore, important to be mindful that any political ad for or against an issue transmitted on a platform during elections may be regulated.
WHAT INFORMATION SHOULD BE INCLUDED IN THE REGISTRY?
Each entry in the registry should include:
An electronic copy of the ad displayed on the platform

The name of the person who authorized the ad, which should also be in the ad tagline
The registry should be easily accessible to the public via a visible link on the platform.
The Canada Elections Act does not prohibit platforms from including more information about regulated ads.
MORE CLARIFICATIONS
M32 would like to thank IAB CANADA for their leadership on representing the industry and helping us clarify many aspects of this law. Please also refer to their website to find more information and guidelines related to Canadian Legislation.
WHAT TYPE OF LABELING SHOULD BE USED TO IDENTIFY THE REGISTRY?
For now, neither the law or IAB Canada gave a clear status on the nomenclature to use. We will work with the industry leaders to suggest a label that will help users quickly identify the registry link.
Our Suggestion is to use :
"2019 Federal Election Ad. Registry"
Our rationale : 
Adding the "year" will help respect archiving needs, in case other elections require a registry as well. 
"Federal" indicates the link with Bill C-76 and avoids confusion with future or actual similar provincial laws.
"Ad. registry" is the label used to clearly identify the purpose.
WHERE DOES THE REGISTRY LINK NEEDS TO APPEAR?
The only requirement that was provided is to ensure that the link is visible and ideally above the fold. However, the usual Media UI, hosts informational links within the footer of most of the pages.
Our advice is to use the best effort to clearly position and identify the registry link so that users can easily find it.
WHAT ARE THE TECHNICAL SPECS FOR THE REGISTRY?
We did not receive clear guidance to be able to support our publishers.
However, here are the features that are required to ensure compliance with the Bill:
The Registry must be visible on every impacted domain to help users access the information.

Any relevant tool, from databases to online sheets, are accepted if you are able to clearly showcase the required fields to the users.

You must keep a copy of the ads (video, image or HTML5).

Make sure it's easy to find, n

ot buried under a sub-section

Include the name of the person who authorized the ad, which should also be in the ad tagline.
Make sure to understand the archiving process required by the law.
DO I NEED TO UPDATE MY DISCLAIMER?
Disclaimer – Please note that this is not intended as a legal copy. IAB Canada recommends that you review this with your legal counsel before including it within your regular Terms and Conditions agreements with media buyers and agency partners.
In accordance with the newly amended Canada Elections Act requiring disclosure of regulated political advertising and prescribed advertiser information in an online ads registry, PUBLISHER/PLATFORM requires full disclosure and mandatory registration data of any affected ad units during this period. Please note that PUBLISHER/PLATFORM reserves all rights to refuse ad creative that is not in compliance.
CAN A PROPERTY HAVE MULTIPLE REGISTRIES?
Nothing was specified neither by the law nor by IAB.
In this case, M32 suggests to clearly identify the link of each registry and a small definition of each one of them (these links and definitions can be hosted in the landing page of the main registry landing page).
Example:

Direct ads Registry represents all the ads managed directly by our employees: link>>

Indirect ads registry represents all the accepted ads sold directly by our partner (NAME PARTNER): Link >>
DOES THE UNIQUE VISITORS THRESHOLD INCLUDES ONLY CANADIANS VISITORS OR GLOBAL TRAFFIC?
IAB confirms that the traffic thresholds are only specific to Canadian Unique Visitors. However, the publisher must be able to provide proof through established analytics tools.
For example, if you have more than 3M UVs and only 20% of your traffic is Canadian based, then the law does not apply to that platform/site.
WHERE CAN I GET MORE INFORMATION?